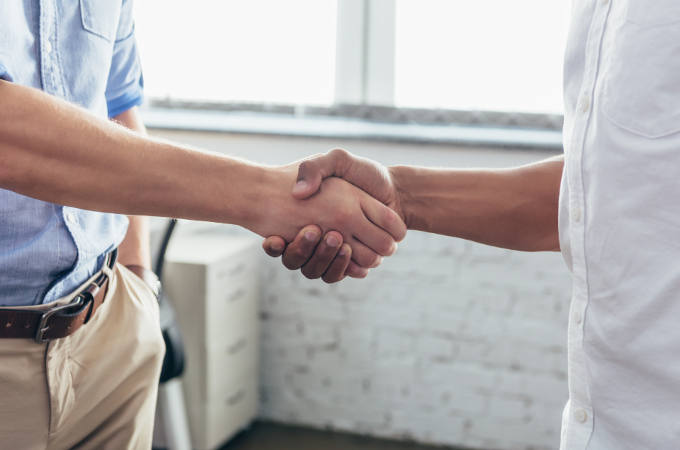 Are you planning to carry out alterations to your home? If they are going to affect the wall between you and your neighbour, you will need to comply with the Party Wall etc Act 1996. This involves getting formal consent from the adjoining owner, otherwise, you will be acting outside of the law and your neighbour can serve an injunction against you. If they do not consent, you will need to appoint a surveyor (separately or together) to help you come to a resolution.
While this is designed to make the process entirely fair for both parties, it can set your project back considerably while you negotiate. It's much better, therefore, if you can present a proposal that your neighbours are happy with.
Here are our five tips for increasing the chances of a 'green light' once your party wall notice has been served. You can find more information and frequently asked questions on our page about party wall surveys.
Have a friendly conversation
The formal party wall notice – with its cover letter, acknowledgement forms and technical drawings – can look quite daunting if they arrive out of nowhere. It can certainly help to set your neighbours' minds at ease by sitting down with them before the notice arrives, to explain your proposed works and how they may be affected. You can do this as soon as you have the first drawing, or even sooner if you have a good idea of the plans.
Hear them out
Your neighbours may raise some concerns during this conversation, or shortly after. The key thing is to listen to their worries and do your best to alleviate them. For example, they may be anxious about the welfare of their young children or roaming pets while the work takes place. If you can show your neighbour that you are going to put up a hoarding to keep the properties separate, this may help.
You may even be happy to amend your plans slightly to accommodate their preferences at this stage. As long as it doesn't hugely infringe on your proposal, it might be worthwhile in order to get guaranteed consent once notice has been served.
Share drawings with them
Providing your neighbour with a set of drawing that explains your proposed work – and how it might affect their home – is a good way of helping them understand what they are (hopefully) agreeing to. They don't need the precise architectural plans, but keeping them relatively informed in an easy-to-read format is most likely to keep them on your side.
Serve your notice early
Waiting to serve notice until the last minute is a recipe for disaster and may look quite suspicious. If your neighbours feel like they are being rushed into a decision they are more likely to seek advice from a surveyor, whose fees you will ultimately be responsible for. Give the adjoining owners plenty of time to consider your proposal and discuss it with you.
Offer to cover the Schedule of Condition
If your neighbour is anxious about your project but not about a specific part of the plans, you may be able to reassure them by arranging a Schedule of Condition to be carried out prior to starting work. Carried out by a qualified surveyor, a Schedule of Condition records the current state of areas of the adjoining home that might be affected by your proposed works. This makes it easy to identify any damage that is caused as a direct result of alterations so that they can be rectified without dispute once the work is complete.
While it may seem like an unnecessary cost, a Schedule of Condition also prevents your neighbour from making any false claims against you and will be significantly cheaper than hiring two separate surveyors.
Unfortunately, some neighbours simply cannot be won over and will dispute a party wall notice simply because they can – at your expense. However, by following these steps you may be able to save yourself some trouble and get consent for your works without much stress.
At Gowers Surveyors, we offer a wide range of services, including assistance with party wall issues. If you have an upcoming project or your neighbours have served you with notice, contact our team today to see how we could help.