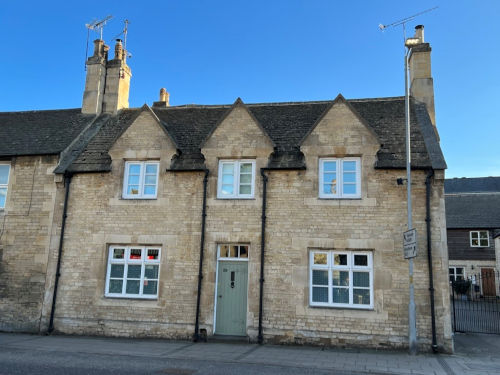 Gowers Surveyors are specialists in older and historic properties and offer a dedicated Historic Building Survey. This service is designed for buildings constructed before 1919 and includes unique properties and designated listed buildings. Our historic building survey report is as comprehensive as a full RICS Building Survey, but additionally provides specific details about how to look after your character home, helping you to enjoy it for many more years to come.
The UK housing market still largely operates under the principle of 'buyer beware', putting the onus on the buyer to find out everything there is to know about the property before contracts are exchanged. While the seller must disclose a wide range of information on the Property Information Forms, there may be some hidden defects and issues that aren't covered, particularly if the property has a long history.
Without commissioning an independent survey, you are leaving yourself vulnerable to problems that may not be apparent to the untrained eye but may end up costing you thousands in remedial work after you have moved in.
Why do I need a Historic Building Survey?
Our Historic Building Surveys are designed around the historic nature of the building you are about to invest in. In addition to an in-depth investigation, we provide specialist insights into many of the idiosyncrasies of these buildings' construction techniques and materials that may affect their future stability.
With their timber frames, sash windows and thatched roofs, it's not surprising that so many buyers are drawn to the charm and character of buildings from a bygone age. However, these unique features can create unique problems, and historic construction materials and methods will typically demand a very different approach to maintenance and upkeep compared to modern building techniques and materials.
When surveying a historic building, it is not uncommon to find problems relating to:
Solid walls
Old wiring or plumbing
Thatched or stone roofs
Exposed timber
Subsidence and heave
Faulty or non-existent damp-proof course (DPC)
Unauthorised modifications to listed buildings
All the above features will have specific characteristics that impact the building's structure and condition as it gets older. Whether the property you intend to buy looks immaculately cared for or is visibly in need of renovation, a professional investigation into its condition will help you to make an informed, confident decision about the purchase. A Historic Building Survey will help you get a better understanding of how to manage these as a homeowner.

How old is the property?
When we talk about historic buildings or period properties, we generally refer to dwellings constructed before World War I. Depending on the era in which they were built, they each have a unique style. Below are some of the most common types of older homes in the UK and how to recognise them:
Tudor buildings are some of the earliest properties to survive to the current day. Classic features include black & white woodwork, and houses were typically half-timbered with white painted wattle & daub walls. There were steeply pitched roofs, tall, narrow doors and small-paned casement windows.
The Stuart period saw flat-fronted, bare brick-built houses with sash windows. After the Great Fire of London in 1666 destroyed over 13,000 timber-built houses in 4 days, Parliament decreed that homes must be built of brick. Stuart features include wood panelling and large fireplaces, spacious parlours and richly plastered ceilings, and small rooms at the top of the house acting as servant quarters.
Georgian buildings have symmetrical, flat exteriors and balanced interior layouts. Houses were often stucco fronted and render painted in white or cream. Townhouses were arranged over 3-4 floors. Small-paned sash windows were a defining feature, with taller windows on the first two and smaller ones on the top storeys where servant accommodation was located.
The Victorians were prolific housebuilders across the social spectrum – from grand manor houses to workers' cottages. Victorian architecture is characterised externally by coloured brickwork, high pitched roofs and gable trims. High ceilings, large sash windows including prominent bay windows, and fireplaces in every room, were key interior features. Elaborate design details reflecting the wealth of the owner included ornate mouldings, stained-glass and decorative floor tiles.
Edwardian houses are known for their ornate decorative details such as floor tiles, stained-glass and timber. Typically found in suburban areas and often heavily influenced by the Arts & Crafts movement, these buildings tend to be wider and less high, with bigger hallways, spacious rooms with high ceilings and large windows. Externally, red brickwork and Mock-Tudor cladding and timber at the top of the house were popular.
Are you buying a listed building?
Many historic homes are more than just 'period properties'; they may have designated listed status – Grade I, Grade II* or Grade II. A building may be listed for any number of reasons, but the overall aim is to protect building features that are deemed to be of special architectural or historical significance. A building's listed status may apply to the exterior, the interior, any object or structure fixed to it, and any object or structure within the grounds.
The grade refers to how the protected building features should be treated and maintained. Most buildings are Grade II listed. Making improvements and alterations to a listed building is not impossible but it needs to be done with extreme care and requires prior Listed Building Consent.
Purchasing a listed building requires a keen commitment on the part of the buyer to become the custodian of a valuable heritage asset. A Historic Building Survey is absolutely essential to providing you with a specialist assessment of the property.
At Gowers Surveyors, our Historic Building Surveys are perfectly placed to give you an in-depth insight into listed buildings from any period. Our experienced team specialises in comprehensive surveys of older, historic properties, providing you with a premium quality report on how the old building works, how to look after it, and what you can and cannot do to a listed building.
What does a Historic Building Survey include?
Carried out by a Building Surveyor with in-depth experience of the style and period of your property, a Historic Building Survey contains specific details about the current condition of period building features and the steps you should take in order to maintain them. Examples include advice on how to allow solid walls to "breathe", the most appropriate way to manage damp patches and how to make repairs that won't damage the character of the building over time.
After a comprehensive site inspection, you will receive a detailed yet easy-to-read report containing any observed defects and remedial recommendations. The survey report will also include notes for your legal adviser, bespoke suggestions of how to improve the energy efficiency of the building and any relevant information about the building's listed status designation or conservation area restrictions.
As with any of our reports, your surveyor will be happy to go through any questions you may have and highlight any areas that require further specialist investigation.
Historic Building Consultancy Services
Unfortunately, in our daily lives as historic building surveyors, we see a lot of cases where inappropriate methods of repair and a general lack of understanding of traditional building materials have caused defects in old properties. In extreme cases, this can have disastrous consequences and lead to the destruction or complete loss of important historical building elements.
At Gowers Surveyors, we routinely support and advise clients in respect of all types of period properties, including listed buildings. We offer a wealth of historic building consultancy services including:
Preparing and submitting planning permission applications and listed building consent applications
Drawing up heritage statements in support of statutory consents
Liaising with Conservation Officers, Historic England and other conservation organisations
Conducting archive research as necessary
Providing project management support for restoration and repair programmes
Providing specialist technical advice for listed buildings and other heritage assets
Preparing Conservation Management Plans and carrying out condition assessments and regular inspections
Our team has extensive expertise in all types of historic properties and we are able to provide the right specialist advice and guidance to help you manage your character home and maximise its value.
How to choose the right surveyor for a historic building
Whether you have your heart set on a thatched cottage, a Victorian semi or a listed heritage home, the skills needed to expertly survey these types of buildings are clearly very different to those needed for modern properties. So, what should you be looking for in a historic building surveyor?
Start by seeking out an experienced member of the Royal Institution of Chartered Surveyors (RICS). RICS surveyors adhere to a strict code of conduct, while robust disciplinary, complaints and arbitration procedures are in place to ensure each client receives a professional service. Gowers Surveyors is headed up by Paul Gowers who is a RICS fellow with 20+ years' experience.
Next, look for other professional qualifications and specific expertise in old, historic or non-standard buildings. Does your chosen surveyor have advanced knowledge of traditional building materials? Do they have the necessary tools to carry out historic building surveys? What about a demonstrable passion for protecting our national architectural heritage?
Gowers Surveyors tick all the above boxes. Paul Gowers is a Fellow of the Chartered Association of Building Engineers (CABE) and the Faculty of Building. He is also a long-standing member of the Society for the Protection of Ancient Buildings (SPAB). We've been conducting Historic Building Surveys for a wide variety of heritage homes for decades and have the experience and technical know-how to provide homebuyers with all the expert advice they need.
Contact Us
Gowers Surveyors have offices in Cambridge, Peterborough and Stamford, and are happy to take enquiries from customers across the East of England. If you would like more information regarding our services or arrange a Historic Building Survey for a property you are interested in, please don't hesitate to contact us. Give us a call now on 01780 408020, or visit our contact page to get in touch with our expert team.